Welcome to my web site.
June 2001, my children have grown and moved out on their own. Since my parenting duties were settled for the time being, I came to be with my husband who was working away from our family at distant posts in America. In the USA we moved from NJ -> CA -> GA by car. As we drove around the country we felt the vastness and beauty of American nature. Now I live in Peachtree City, by car, about 20 minutes south of the Atlanta airport. I thought it would be a short stay and was some kind of rest to come to US, now it has been 4 years....
In Peachtree City there are 80 miles of golf cart paths. We can drive a cart to go to have a meal or go shopping and along the way enjoy the sight of the sun shining though the forest. In PTC I enjoy walking, jogging and sometimes riding a mountain bike through the beautiful green ways throughout the city. I also enjoy nature and the changing of the seasons. In the clean air and natural surroundings I feel the breath of life. In my spare time I am absorbed in quilting. I enjoy the freedom to explore various colors and textures in the designs. In this way I bring the quilt to life.

Why don't you look into my complacent world!
I am pleased if you enjoy my quilt. Here is an example of my work.
If you have any impression and question, please mail to Mitsuko Yamakawa.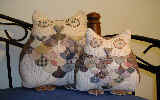 My husband also open another Home Page. Please visit if you are interested. Hyde's personal site
Last revision date of this site is 01/09/09.